TRIBUNAL DISMISSES PDP'S PETITION, UPHOLDS OTTI'S ELECTION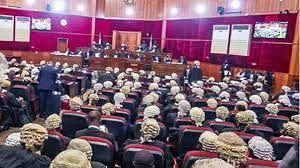 The Governorship Election Petitions Tribunal sitting in Umuahia, Abia State, has dismissed the People's Democratic Party's petition against the election of Governor Alex Otti for lacking merit and confirmed Otti as the duly elected governor of Abia State.
The tribunal, which dismissed the petition brought by Ambrose Ahaiwe and the PDP challenging the outcome of the March 18, 2023 poll, on Friday, was led by Justice H.T.D. Gwadah.
Delivering judgment on the matter, Justice Gwadah held that the contention over Otti's qualification to contest the election and the arguments of the petitioners were pre-election matters. According to him, the tribunal lacked jurisdiction to entertain the matter.
It also pointed out that the petitioners failed to lead evidence on the allegation of forgery of the National Youth Service Corps certificate leveled against Otti and could therefore not prove their case. The tribunal also noted that NYSC was also not a factor in qualifying or disqualifying a candidate.
The tribunal insisted that no witness called by the petitioners spoke on documents tendered to prove their allegation of over-voting which made the documents of no value adding that the petitioners failed to prove their claim that the result of Obingwa Local Government Area was taken to Abuja where it was allegedly doctored before being brought back to Abia to be declared.
After the judgment, the Counsel to the petitioners Chukwuemeka Nwaogu said they would study the judgment and decide on the next line of action with their client in line with the provisions of the law.
On his part, the Labour Party Chairman in Abia State CeeKay Igara described the judgment as a reflection of the people's will.
AUDIO 1
Also speaking, the Member representing Isialangwa North and South Federal Constituency in the House of Representatives Ginger Onwusibe had this to say.
AUDIO 2