Subsidy removal: NLC's NEC endorses August 2 nationwide strike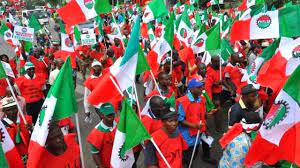 The National Executive Council, NEC, of the Nigeria Labour Congress, NLC, has endorsed the August 2 nationwide strike and mass protests by NLC over the recent hike in pump price of petrol.
In a communique issued at the end of the NEC meeting on Thursday, NEC members also approved other decisions reached by the Central Working Committee, CWC, of NLC, held on July 25, 2023.
The Communique signed by President and General Secretary of NLC, Joe Ajaero and Emma Ugboaja respectively, reads and others, "NEC-in-session after exhaustively deliberating and reviewing the current socioeconomic situation confronting Nigerian workers and masses and the attendant mass sufferings and deprivation across the nation as a result of the unfortunate actions and Policies of the current occupiers of the seat of
Government arrived at the following conclusions in agreement with the Central Working Committee's (CWC) earlier deduction that the government has shown disdain and contempt to the plight of Nigerians, shunning reasonable dialogue and refusing to take active measures to protect Nigerians instead it resorted to robbing the people to pay the rich despite the massive outcry across the nation.
"To this end, NEC-in-session applauds, Re-affirms and supports all the decisions of the Central Working Committee Meeting of the 25th of July, 2023 of the immediate reversal of all anti-poor policies of the federal government including the recent hike in PMS price, Increase in Public School fees, the release of the eight months withheld Salary of University lecturers and Workers and increase in VAT.
"The immediate inauguration of the Presidential Steering Committee as agreed in the earlier consequential dialogues, to begin the building across the nation of a Coalition of all Nigerians where all will be leaders and all will be followers, to call on all civil society organisations and Nigerians wherever they may be to begin mobilization to take action on theirown to save our nation and to lead and organize mass protest rallies across the nation to demonstrate outrage against the inhuman actions and policies ofthe government.
NEC agreed "to give the federal government a Seven- Day ultimatum within which to meet all our demands and to embark on a nation – wide action beginning Wednesday the 2nd of August, 2023 to compel the government to reverse its anti-poor and anti-workers policies.
"NEC Consequently directs all Affiliates and State Councils to begin immediate mobilization and closely work with associations, individuals and other entities including the ones already on the streets to ensure that government listens to the people."
Members of NEC "insisted that the unseriousness of the federal Government towards the creation of frameworks to cushion the impact of its hike in the price of Premium Motor Spirit (PMS) or Petrol was demonstrated not only in the quality of its representation in the hastily called meeting of yesterday (Wednesday) but also in their unpreparedness to deal with the issues as canvassed.
"NEC therefore set up strategy committees across all the states urging all affiliates and State Councils including the civil society to come out beginning Wednesday, the 2nd of August, 2023 across the nation to protest Government's insensitivity to the plights of Nigerians."