Otti pours encomiums on late Prof Irukwu, says his demise huge loss to Abia, Nigeria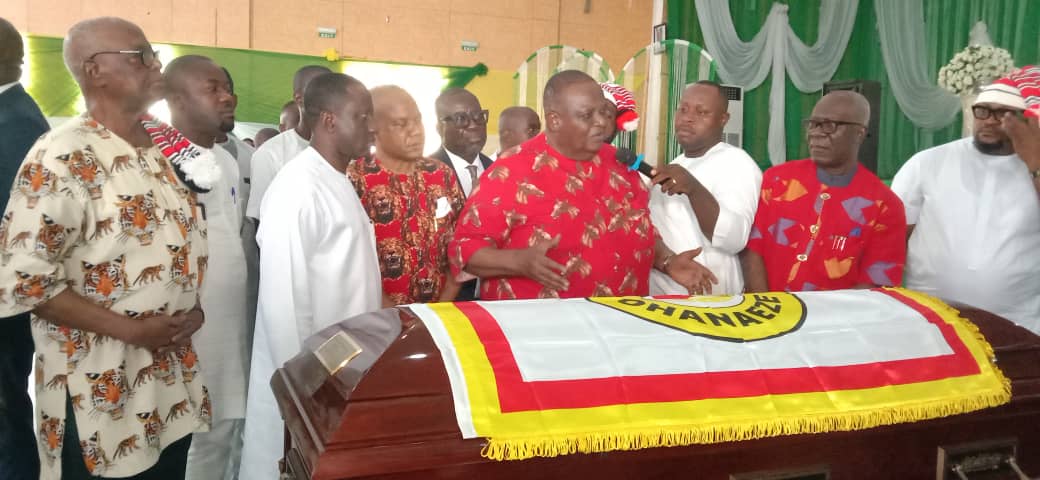 Abia Governor Alex Otti has described the first President General of Ohanaeze Ndigbo, late Prof Joseph Ogbonnaya Irukwu as a seasoned administrator and selfless statesman who championed the cause of Ndigbo during his life time.
The Governor who said this during a valedictory Service in the honour of late Prof Irukwu at the International Conference Centre, Umuahia on Friday, said Irukwu's demise was a huge loss for Abia state and Nigeria at large.

Otti, who was represented by the Secretary to Abia State Government (SSG), Professor Kenneth Kalu, recalled the lawyer's imprint in the insurance and legal profession, pointing out that he was the pioneer President, Nigeria Re Insurance Corporation as well as the first Professor of Insurance in Nigeria who later rose to the rank of Senior Advocate of Nigeria.
The Abia governor therefore urged his family and all those he left behind to draw solace in the fact that the late sage impacted many lives, even as he commiserated with the Irukwu family, Item people and Abians as a whole on the irreparable loss.
On his part, Chief (Engr) Emmanuel Iwuanyanwu, the President General of Ohanaeze Ndigbo, counseled Igbo sons and daughters across the world to engage in fruitful ventures and work hard like late Prof. Jos Irukwu saying that Igbos are known to be enterprising and are achievers of excellence in all areas of human endeavours and not in scam.
In his speech while decorating Prof Irukwu posthumously as the first President General of Ohanaeze Ndigbo, Iwuanyanwu, the current President General of Ohanaeze Ndigbo said Irukwu has paid a good price of excellence, service, dedication to fatherland, patriotism etc, adding that the younger generation should emulate and imbibe his startling qualities. He therefore officially inducted the deceased posthumously into the Igbo Hall of Fame.

In his speech on behalf of Abia State Council of Elders, pioneer NDDC chairman, Chief Onyema Ugochukwu said the deceased showed patriotism and love for Item people and Ndigbo in general, stressing that as Chairman Abia State Council of Elders, late Professor Joe Irukwu piloted the council effectively even as the council gained significance under his watch.
In his tribute, the President General, Item Development Association, Sir Onwuka Orji said the deceased was a driving force that united Item people. He described him as a great mentor, icon who orchestrated development and honour in Item land.
In his sermon, the President Vision Africa Radio, Bishop Sunday Onuoha, emphasized that the late Prof. Joe Irukwu did not only make a name for himself, but also left a lasting legacy as he aked the congregation to live lives that would be remembered and valued after death.
The event was attended by prominent sons and daughters as well as stakeholders in Igboland, including a former Minister of the Federal Republic of Nigeria, Dr Uchechukwu Ogah, Commissioner for Information Prince Okey Kanu and a host of other dignitaries.