Osisioma Auto Technicians, Christian Youths Endorse Onuigbo for Senate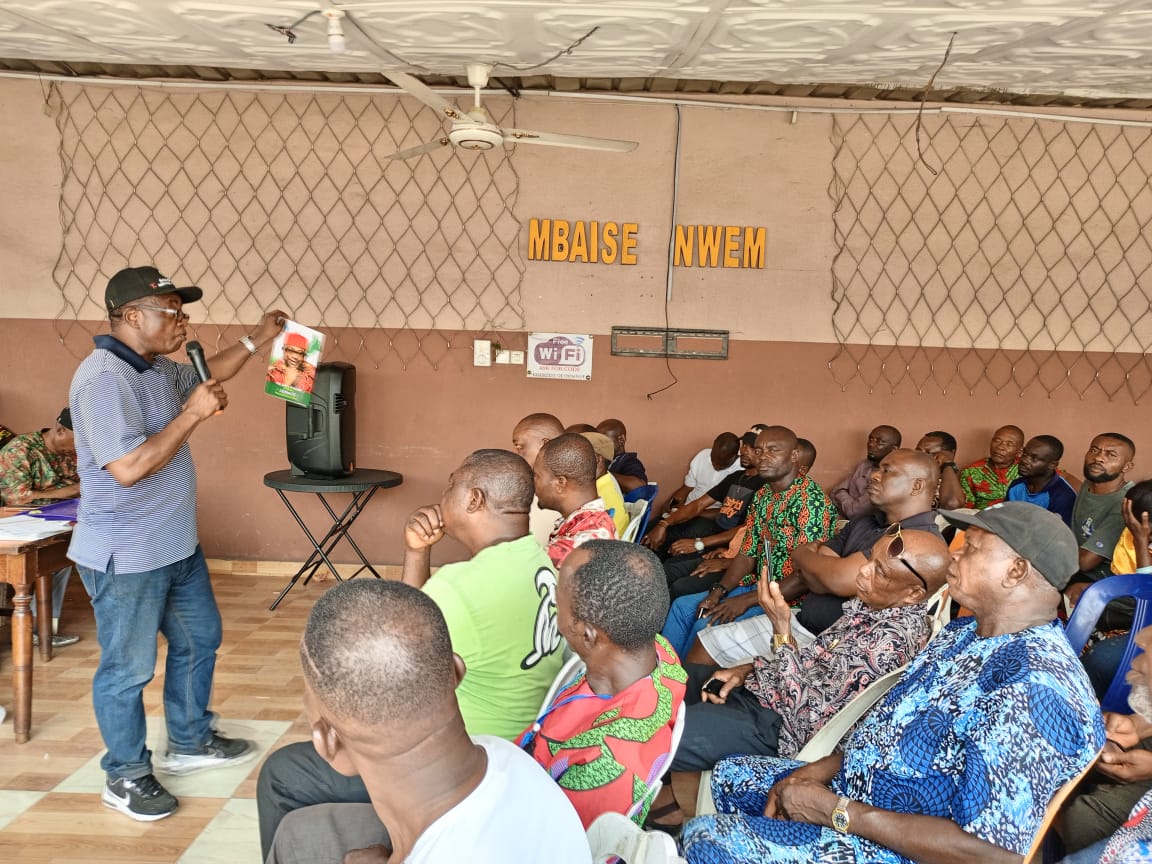 The Nigerian Auto Technician Association (NATA) Osisioma Ngwa Chapter and Youths of the Bible Believing Mission has declared their explicit support for the Abia Central Senatorial Candidate of the All Progressives Congress, Rep. Sam Onuigbo, describing him as the Lord's chosen one whose emergence has brought hope to the people, going on to endorse him as their Senatorial Candidate for Abia Central Senatorial District.
This was after Rep. Sam Onuigbo, who is also the member representing Ikwuano/Umuahia North and South Federal Constituency, had an empathic deliberation with them.
Explaining the need to enthrone good governance, Rep. Onuigbo said: "I was part of the technical committee that worked on the new Electoral Act, and the work we did has empowered you to choose credible leaders who would represent you."
"I want to represent you because I want to continue to redefine representation, moving it from what it used to be, to using the position given to me by the people to make positive impacts in the lives of those whom I represent," he stated.
Furthermore, he explained that his style of representation is anchored on the principles of EAR, with "E" standing for effectiveness on the floor of the National Assembly and committees, and engaging with MDAs in order to bring dividends of democracy to his constituents; "A" for accessibility, which means that those whom he represents should be able to access him at anytime and place; and "R" for responsiveness to the legitimate needs of his constituents as much as resources and opportunities available to him permit.
" I am the first person to be reelected in Ikwuano/Umuahia North and South Federal Constituency, and I saw this as a vote of confidence on me by my people. Representation is a sacred duty and debt, which means that when you vote for me, I am indebted to you ," he announced.
In summary, he advised them to be very intentional about whom they choose to lead, avoiding pretentious candidates who want to ride on the goodwill of other credible candidates, and tasking them to vet every candidate on the merits of their character and antecedents.
"This shows that it is not about the party, but about the qualities of the candidate. I have been able to prove that representation is not about the size of your car or house, but about the ability to make positive impacts. My appeal to you today is that having seen my records, that you help us win people over to our side," he concluded.
In his remarks, the president of the Nigerian Auto Technicians Association, Mr. Nnamdi Nwosu, having heard Rep. Onuigbo mention that he was once an Auto Parts trader, joked that he already knew the secrets of mechanics. He described Rep. Onuigbo as a candidate who stands out among other candidates, declaring that NATA has adopted him as it's Senatorial Candidate for Abia Central Senatorial District.
Speaking on behalf of the Bible Believing Mission Youths, the President, Mr Ikechukwu Ohanenye, quoting from the scriptures in Acts 2:17 which says: "your old men will dream dreams, your sons and daughters will prophesy, and your young men will see visions," prophesied that Rep. Sam Onuigbo will be victorious on the 25th February, 2023, to emerge the next Senator of Abia Central Senatorial District. He went on to pledge the support of the Bible Believing Mission Youths for Rep. Sam Onuigbo's Divine Mandate.
Ugochukwu Uzuegbu