ONUIGBO EMPOWERS OVER 200 UNEMPLOYED YOUTHS, UNSKILLED WOMEN IN ABIA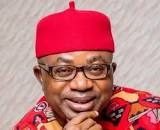 The member representing Ikwuano/Umuahia North and South Federal Constituency Hon. Sam onuigbo has commenced the empowerment of over 200 of his constituents in continuation of his avowed bid to reduce the level of unemployment among his people.
Dailytrailnews reports that the five-day Strategic Training/Empowerment scheme in collaboration with National Institute for Cultural Orientation, NICO is for unemployed youths and unskilled women in Ikwuano/Umuahia Federal Constituency and beyond.
At the flag off exercise in Umuahia, the Federal Lawmaker who was represented by his Chief Liaison Officer Evangelist Abraham Osondu said the exercise is in continuation of his commitment towards the empowerment of his constituents.
He noted that it was part of the Rep Member's continuous empowerment to his constituents adding that it's a promise he made during his first term, and has continued with that promise in his second term. "It is about empowering people through self-employment because that's the way forward for Nigeria, it's no longer a question of I am a graduate you are writing an application for jobs. "We are trying to get people to look for ways they can establish themselves and be able to have regular income rather than asking or begging people to give them money".
He further revealed that Hon. Sam Onuigbo has done series of empowerment programmes which include, fishing, poultry farming and other kinds of skills acquisitions in the area of tailoring, fashion designing and other things. He added, "We have always provided trainees with equipment, skills and then stipends to support that because obviously startup capital is very essential if you are going to empower people. You don't just train them and send them away empty handed. "So we expect this will be accompanied by a package, the National Institutes for Cultural Orientation, NICO essentially has got a package, obviously during closing ceremony they will be saying what that package is, it will be a combination of equipment and of course the skills they've acquired and cash to get them start up".
Some of the participants, Chibogu Madunekwu, Augustine Amanaha and Adaku Patrick expressed their appreciation to the Rep Member noting that Onuigbo has always embarked on adding value to the lives of those he represents as they promised to utilize the assistance to better their fortunes in life.
Dailytrailnews reports that participants were given N50,000 each as stipend, along side other startup pack.