Ikpeazu says a neophyte won't succeed him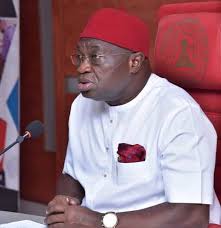 Abia State Governor, Dr. Okezie Ikpeazu, has stated that he won't hand over to a successor who will learn on the job as governor of the state.
He insisted that those aspiring to lead after him should not be persons who want to use political power to learn on the job in order to avoid a disruption of the lives and livelihoods of the people of the state.
Speaking at the 2022 Enugu State cultural event held in Aba, Ikpeazu explained that the leadership of the state and Nigeria at this critical period needs to be entrusted into the hands of experienced administrators who are prepared by learning, character, life experiences and knowledge of the local environment.
The Governor noted that he prefers a leader who possesses proven capacity to continue where he will stop on May 29, 2023, follow the trajectory of progress and delivery of dividends of democracy to the people.
Ikpeazu who was represented by the State Commissioner for Trade and Investment, John Okiyi Kalu, lauded the good relationship existing between Enugu indigenes residents in Abia State and the government and people of the state and described them as integral members of Abia community who have contributed immensely to the development of the state.