IKPEAZU DEBUNKS SPECULATIONS ON SUPPORTING TINUBU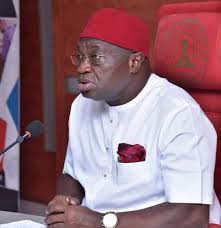 Abia State Governor, Dr Okezie Ikpeazu, has dismissed recent comments alleging his support to Tinubu and credited to Chief Whip of the Senate, Senator Orji Uzor Kalu, as mere speculations and wishful thinking.
Speaking to newsmen after inspecting the ongoing final asphalt overlay on Faulks Road, Aba, Governor Ikpeazu stated that "no member of G5 can railroad another member into supporting anyone against his will as suggested by Senator Kalu".
It will be recalled that during a recent interview with a Television station on Monday, Senator Kalu had said that Tinubu was going to have the support of the Governor alongside other G5 Governors.
Responding to newsmen after his project inspection visit, Governor Ikpeazu who dismissed Senator Kalu's statement with a wave of the hand, described it as mere wishful thinking and the usual political speculation associated with the season.
Earlier, the Director of Strategic Engagement, Abia State PDP Campaign Council, Chief John Okiyi Kalu, had in a statement issued in Umuahia, assured that there was no truth whatsoever in the statement credited to Senator Kalu, recalling that in the run up to the 2019 general elections, there were similar mischievous speculations around the Governor because of what he described as Ikpeazu's non rancorous brand of politics which he said allowed the governor to accommodate different political views and orientations without any qualms.
Chief Okiyi further stated that the PDP in Abia State acknowledges what he described as the frustration of opposition parties in the state adding that Abians were not willing to repeat the same mistake Nigerians made at the National level in 2015.