Students target Apapa port after airport road blockade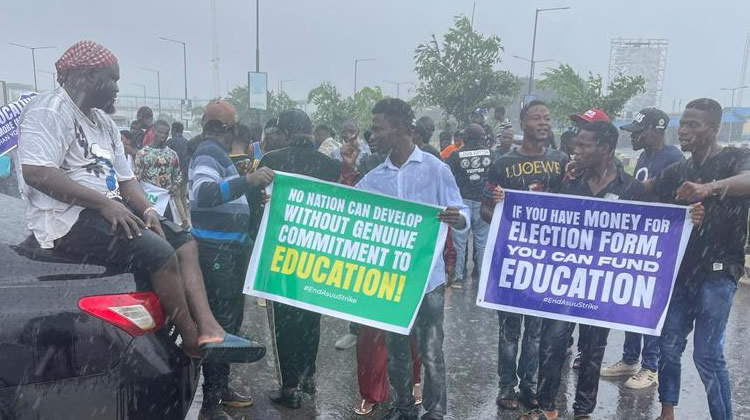 Students, under the aegis of the National Association of Nigerian Students, on Monday made good their threat to ground activities at the Murtala Muhammed International Airport, Lagos when they defied early morning downpour to block access roads to both the international and domestic terminals of the airport.
The action was in continuation of their protests against the ongoing strike by the Academic Staff Union of Universities.
The blockage of the access roads left air passengers stranded, forcing airlines to reschedule most of their flights.
The students, however, told newsmen that they will be taking their protest to Apapa Ports on Tuesday (today).
"We will be moving to Apapa seaports on Tuesday if the Federal Government refuses to do the needful. Students are tired of staying at home," Olatunji said.
As of 8am on Monday, NANS members stopped passengers at the Murtala Mohammed International Airport Toll gate plaza from accessing the airport to board their flights.
The students later moved to the domestic airport, causing a standstill situation along the airport road and Mobolaji Bank Anthony Road leading to the local airport.
Activities were affected at both Domestic Terminal I also known as the General Aviation Terminal and Terminal II as the students prevented passengers from accessing the airport.
The protesting students wielded placards with inscriptions such as 'Our education is more important than your election' and 'Education is a right, open our schools,' among others.
The blockage led to traffic gridlock around Ikeja environs as motorists and commuters were stranded.
As the gridlock persisted, most commuters and air travellers resorted to trekking with their luggage on their heads.
There was also a heavy presence of security operatives at the location.
The immediate past president of the Nigerian Bar Association, Olumide Akpata was also caught up in the protest as he had to walk towards the Hajj Camp where he joined his driver.
Speaking to our correspondent, Akpata said he would have done the same if he was a student.
"I was a student in this country, if I had sat at home for close to a year for whatever reason, I would be on the street," he said.
Meanwhile, a mild drama played out when some military men later approached the protesting students, asking them to round off their protest. This was met with stiff resistance by the students who insisted on barricading the road for eight hours.
The security operatives said the protesting students had exceeded the time they were meant to stay on the road.
The Deputy Commissioner of Police in charge of the Airport, Kayode Sunday, said "We had an agreement that they were going to leave the road by 2 pm, and they have exceeded the time. This is an international corridor. We are managing the situation and I believe they are going to vacate this place anytime from now."
Speaking on the conduct of security agencies during the protest, Olatunji said, "Securities agencies complied and I can say it's the best I have ever witnessed. NPF and Nigerian Army all did well and were in solidarity with us."