Onuigbo emerges only Lawmaker from entire Southern Nigeria to be inducted into MVP Hall of Fame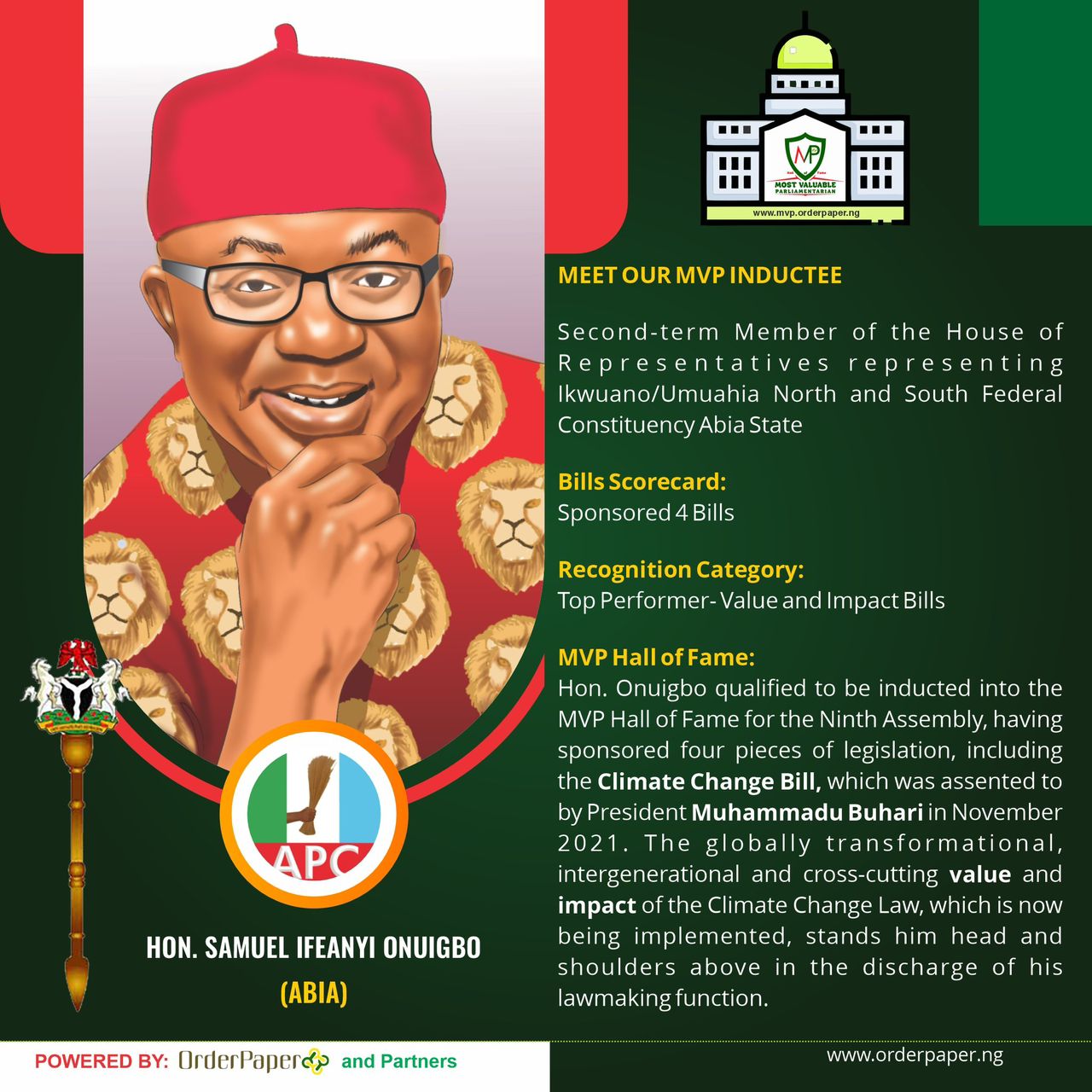 Member representing Ikwuano/Umuahia North/Umuahia South Federal Constituency at the House of Representatives, Rep. Sam Onuigbo has been inducted into the first ever National Assembly Most Valuable Parliamentarian MVP Hall of Fame.
Onuigbo who was part of five Senators/Members out of the 469 members of the 9th National Assembly to be so honoured was also the only National Assembly member from the entire Southern region of Nigeria to be inducted into the MVP Hall of Fame.
According to the Executive Director of OrderPaper, the organiser of the MVP Hall of Fame Oke Epia, the process of selection was based on performance appraisal aimed at "unveiling a distinct class of excellent performers in the National Assembly".
The final five inductees emerged after four screening processes spanning three years, through several appraisals by independent and globally recognized appraisers using the metrics of Value, Volume, Impact, and Progression.
Announcing Onuigbo as one of the five inductees, the organisers stated that the National Lawmaker was chosen in recognition of his contribution to the 9th National Assembly on the basis of Qualitative, Impact, and Value especially for his sponsorship of the Climate Change Act which is inter-generational, globally impactful, and has the capability of laying the foundation for a sustainably developed Nigeria.
Onuigbo who expressed his happiness at being honoured said the recognition was a testament to his tenacious and selfless dedication towards being an impactful representative.
The inductees were unveiled at "A Night of Glamour" which held at the Nigerian Airforce Conference Centre, Abuja, on May 21, 2023.
Dignitaries at the high-powered event include, Governor-Elect of Kaduna State, Senator Uba Sani (MVP Hall of Fame inductee), representative of the former Senate President, Senator Bukola Saraki, Rt. Hon. Tajudeen Abbas, Rt. Hon. Benjamin Kalu, former Chief of Army Staff, General Azubuike Ihejirika, Rt. Hon. Mohammed Tahir Monguno (MVP Hall of Fame inductee) Senator Yahaya Abubakar (MVP Hall of Fame inductee) Senator Ibrahim Oloriebe (MVP Hall of Fame inductee), and many others.