Nigeria drop to 40th in latest FIFA rankings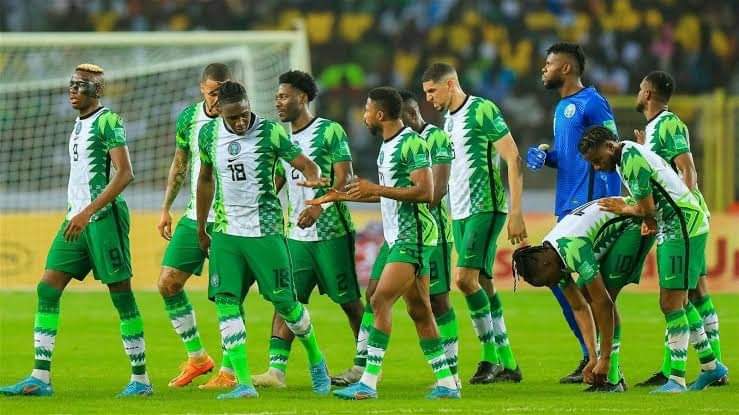 Nigeria have dropped five places in the latest FIFA men's rankings for the month of February.
The Super Eagles, who were ranked 35th in the world in the ranking released in December, dropped 14 points to 40th.
The Eagles' drop in the rankings was largely due to their poor performance in the recently Africa Cup of Nations qualifiers against lowly-rated Guinea-Bissau in the month under review.
Jose Peseiro's men were conquered by the Wild Dogs in the first leg of the double encounter at the Moshood Abiola National Stadium in Abuja before labouring to a 1-0 win in Bissau in the second leg.
FIFA last announced the ranking for men on December 22, 2022 with the Eagles finishing the year in 35th position after losing one step.
The new version (of ranking) developed by FIFA named "SUM" relies on adding/subtracting points won or lost for a game to/from the previous point totals rather than averaging game points over a given time period as in the previous version of the World Ranking.
The points which are added or subtracted are partially determined by the relative strength of the two opponents, including the logical expectation that teams higher in the rankings should fare better against teams lower in the rankings.
These wins and matches will have an impact on the latest FIFA World Rankings.
The new system also saw the Eagles drop further in Africa as they currently occupy sixth position.
Meanwhile, Morocco's impressive run saw them maintain their number one spot on the continent and 11th in the world. They are followed by second-place Senegal, who also moved one place in the world to 18th.
Tunisia maintained its position as the third-best team in Africa and 28th in the world, while Algeria leapfrogged Egypt to occupy the fourth position in Africa while also moving six places in the world to the 34th position. Egypt, who were 39th in the previous rankings, moved up four places to be ranked 35th in the world and fifth in Africa.
Nigeria, Cameroon, Ivory Coast, Mali and Ghana complete the top 10 in Africa.
Meanwhile, World Cup winners Argentina have returned to the top of the world rankings for the first time in six years.
Lionel Scaloni's side – who captured their third world title with a thrilling final win against France in Qatar last year – won friendlies against Panama and Curacao in the March international break.
Argentina replace rivals Brazil at the summit after the Selecao suffered a surprise friendly loss to World Cup semi-finalists Morocco in March, a result which sees them drop to third.
France are second in the rankings after their Euro 2024 qualification wins over the Netherlands and the Republic of Ireland while the Selecao dropped to third place.
Belgium, England, Netherlands, Croatia, Italy, Portugal, and Spain make up the top ten.