JTF discovers illegal diesel dump in Bayelsa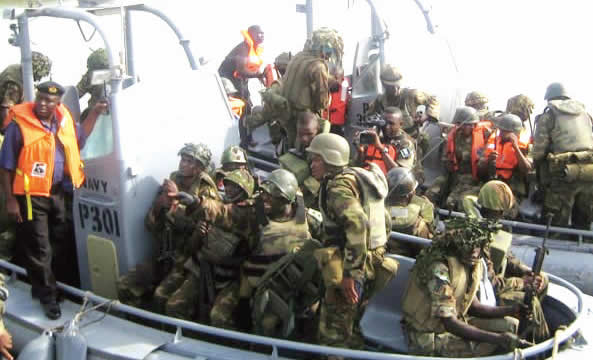 The Joint Task Force, Operation Delta Safe on Thursday uncovered three reservoirs used for the storage of illegally-refined fuel in Bayelsa.
The reservoirs, located along Tamara Street in Biogbolo, have about 35, 000 litres of Automated Gas Oil (diesel) and 38 jerrycans filled with illegally-refined products loaded in a vehicle.
"The building has been taken over, we have three dug-out pits within the building with a vehicle also carrying about 38 jerrycans filled with the illegally-refined product.
"This is to show that the OPDS is working and not relenting at getting rid of criminals in the Niger Delta because illegality is affecting the economy of the country," Commodore John Siyanbade, who represented the OPDS Commander, Rear Adm. Olusegun Ferreira, said.
Siyanbade said apart from the illegality of it, the illegal oil reservoirs also constituted a health hazard for other people that are living in the community.
He warned those involved in illegality in the region to desist or be ready to face the law.
The News Agency of Nigeria reports that during the operation, which included operatives of the Nigeria Security and Civil Defence Corps, three boys working in the facility were arrested and interrogated.
Also arrested was a woman suspected to be the wife of the owner of the facility, who claimed she was not aware that the business was illegal.