IPOB condemns killing of Policemen, civilians by 'criminals' in Imo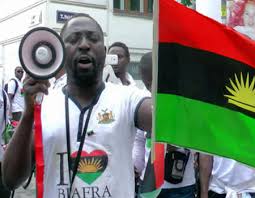 THE Indigenous People of Biafra, IPoB, has condemned in its entirety the alleged civilians in Ngor Okpala, Imo State, by yet-to-be-identified criminals.
The pro-Biafra group in a statement by its Media and Publicity Secretary, Emma Powerful, entitled, "We condemn the killing of Policeman and civilians at Ngor Okpala, Local Government Area, Imo State" describing it as a barbaric act that IPoB cannot get involved in, it equally alleged that it was state-sponsored killing.
The separatist group described as unfortunate a section of the media that has continued to link IPoB with such barbaric killing accusing them of compromising their respected job for monetary inducement.
IPoB's statement read, "The global family and movement of the Indigenous People of Biafra, IPoB, condemn the murder of Policemen and innocent citizens at Ngor Okpala Local Government Area of Imo State by criminal elements."
"IPoB disassociates itself from such barbaric murders. We, therefore, warn Nigerian paid media operatives to stop linking us with such Nigerian State-sponsored killings and criminal massacres, perpetuated by Nigerian agent provocateurs in Biafraland.
"IPoB is a peaceful movement seeking separation from the Nigeria State through internationally recognised and accepted modus operandi, called Self Determination and not through murderous or criminal activities.
"IPoB seeks to create a calm and peaceful environment for everyone in our territory to safely dwell and for our people to come home and be part of the development of Biafraland. It is not and has never been and will never be part of our objective to scare or kill innocent citizens of Biafra, or non-Biafran. Even though Nigerian security agents have been brutal on Biafran citizens, we have always maintained our calm.
"For now, those hungry and useless idiotic security men are no hindrance to our freedom, though they are agents of oppression. When the time for vengeance on those who have participated in the killing of peaceful citizens of Biafra comes, we shall avenge and take responsibility for it. Right now, our focus is to ensure that Biafra territory, particularly Ala Igbo, is calm and peaceful, as ordered by our leader, Mazi Nnamdi Kanu.
"It is public knowledge that the Nigerian government is using both state actors and non-state actors to create insecurity and chaos in the South East just to blackmail IPoB through some compromised media agencies and agents. These state actors and non-State actors, sponsored by Miyetti Allah cattle breeders, such as Fulani terrorist herdsmen kill, kidnap, and destroy homes, while the Nigerian government use some compromised media to attribute their criminal activities to IPoB without any investigation.
"We have always exposed their blackmail to the world and have always been vindicated. The non-state actors and criminals in our land working for the Nigerian government should ask themselves where does killings bring a conducive atmosphere in the world.
"These paid criminals in the East should stop and allow Biafra agitation to flow naturally according to plans. We are warning the following criminals; Chocho and his co-actors, Agama, and Egbe, to stay off Biafra land or face the consequences. They have already been declared wanted by IPoB, and their sins will catch up with them soon."