I will open up Abia to the world to attract local and foreign direct investment – Professor Uche Ikonne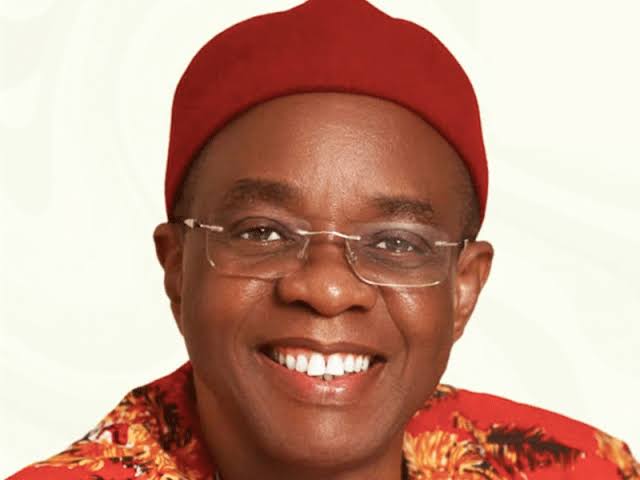 The governorship candidate of the Peoples Democratic party PDP for the 2023 general election in Abia state Professor Uche Ikonnne has promised to work with the business community in Aba by establishing a business school to orientate the traders on how to make their manufactured products certified both continentally and internationally.
Professor Ikonne who gave this assurance while interacting with a cross section of members of Abia online Media Practitioners Association in his campaign Headquarters Onyerobi close Umuahia, assured that the people must feel the impact of governance in his administration.
According to the former Vice Chancellor of Abia state University," we are going to work with business community in Aba so that goods that are manufactured in Aba can be of global standard and can be exported .
"We will strategize globally how it is done globally and we will establish a school of business to train our traders to promote their entrepreneurship and trade to global standard which will help us participate in intercontinental trade "
According to the Professor, "Abia will be opened up to the world to attract local and foreign direct investment through tourism, carnivals festivals e.t.c".
Speaking further, the Abia PDP Guber candidate promised to liquidate all outstanding salary arrears and Pensions within the first six months of assuming office as governor in 2023 as he maintained that salaries and pensions are the rights of workers, adding that there is no justification to demand for high productivity whilst the worker is being owed his or her salaries.
He promised to prioritize workers welfare, disclosing that he has specific arrangements to clear all outstanding salaries and pensions within six months in office stressing that he has mapped out specific arrangements to clear the arrears as he insisted on making sure that workers would be productive to earn their pay.
"So, talking about salaries and pensions, it's when I take over I'm going to see the circumstances if there is any outstanding before I know since the government is still paying…and if there are still arrears remaining I have specific arrangements to clear them".
For me staff welfare is a priority because I do not have the moral justification to demand for quality services from workers if I am owing them salaries "

He further said that part of his plans is to procure basic equipment for every local government and partner with construction companies like Julius Berger to train the people on how to utilize such equipment to help in the maintenance of rural roads.
Debunking insinuations in some quarters that he is a surrogate to the incumbent Governor Dr Okezie Ikpeazu, he described such rumours as baseless as he queried "what kind of Godfather can you be to a 66-year-old man?"