I don't owe you, lobby me to pay, Tinubu tells Wike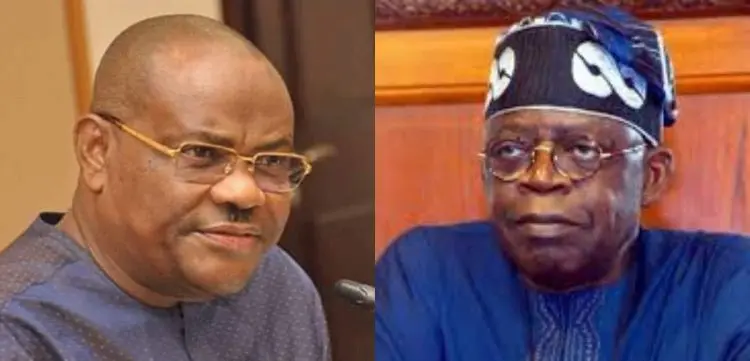 President-elect, Asiwaju Bola Tinubu, yesterday, said Federal Government, under his administration, owes no obligation to make refunds on federal projects undertaken by states of the federation.
Tinubu, who was responding to a request by Governor Nyesom Wike of Rivers State, in Port Harcourt, at the inauguration of the Rumuokuta flyover-over during a two-day visit to the state, however, told the Rivers governor that he could reconsider his stance on the request on the condition that the governor lobbies him.
Tinubu said: "On the demand you made for refund, I owe you nothing. It's your road. You're the one living on these roads. I commend your efforts. You have to lobby me to collect."
Attesting to the growing intimacy between him and the Rivers outgoing governor, Tinubu said: "My visit to Rivers is a promise kept, promise fulfilled. If you talk of character, Governor Wike, you are very dependable.
"In Wike, I see a man of principle. He took a stand that the presidency must return to the South. And he had the courage to stand by his conviction, not minding whose ox is gored. He is indeed a man of great integrity. You promoted unity, fairness and championed justice.
"To commission this project today is another way of building bridges across Nigeria, which cannot be overstated. It is on the strength of your character that I stand to fulfil the promise I made during the campaigns. I'm happy we have been able to establish a relationship.
"I'm a very happy man. As you make people happy, and create excitement and development across this state, we have something to look forward to in Nigeria."
Earlier, Wike had told Tinubu: "Part of why we are having uncompleted projects has to do with our procurement laws. If you follow the procurement law, it will take very long to complete projects.
"How much does the procurement law, I mean for federal, say, 15 to 30 per cent (mobilisation)? When you give a contractor 15 per cent, inflation is rising almost every day, before you give another money, they will call for variation because of the increasing cost of materials.
"In our case, I call Mr. Speaker, to say we can't continue with this. We had to amend our procurement law to give us the latitude to pay 70 per cent to a company we know has the capacity to deliver within time.
"That is why today, no project being handled by Julius Berger is uncompleted. We are dualising Ahoada to Omoku to Egbema to our boundary with Imo State. Julius Berger is doing that work. We are also dualising from Emohua, East West to Degema Junction, also by JB.
"How much did they charge us, about N80 billion. We fall back on our Internally Generated Revenue, to say every month, take N4 billion, and finish this road in 18 months. That is why we have never failed in completing our projects.