Ekweremadu: ailing daugther appeal to the public to save her life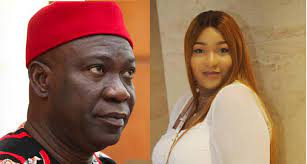 Sonia Ekweremadu, the ailing daughter of the detained former Deputy President of the Senate, Ike Ekweremadu, has appealed to members of the public to donate a kidney to save her life.
Newsmen had reported that Ekweremadu and his wife, Beatrice, were arrested by the Specialist Crime Team of the Metropolitan Police in London, United Kingdom, for bringing a child into the country to allegedly harvest his organs.
They were arrested in June 2022 at the Heathrow Airport in London and arraigned before a UK Magistrate's Court.
While Ekweremadu's wife was granted bail by a criminal court in London, the Senator was denied the same and has spent no fewer than 82 days in prison custody. The case against him was recently adjourned till October 31, 2022.
However, as the politician continues to languish in prison, his ailing daughter, who expressed worry over her father's health, in an emotional post on Instagram on Monday, appealed to members of the public to save her with a kidney donation.
Chronicling her ordeal using her Instagram handle, @soniaekw, Sonia, a graduate of Media and Communications, University of Coventry, said she dropped out of postgraduate studies after she was diagnosed with rare kidney disease.
Sonia, who said her family members were eager to donate their kidneys knowing that she would do the same for them, explained that a comprehensive medical examination had shown that her case of nephrotic syndrome was a genetic illness and doctors advised against donation from any of her family members, noting that it would likely reoccur.