ASUU appeals ruling, says FG has declared war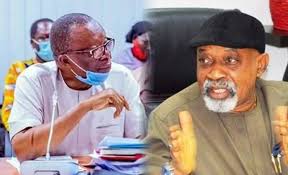 The striking Academic Staff Union of Universities will today file an appeal against the ruling of the National Industrial Court which directed its members to resume work.
Counsel for ASUU, Femi Falana who disclosed this in an interview with newsmen in Abuja on Thursday said it will be filed first thing Friday morning.
ASUU has been on strike since February 14 to press home its demands for improved funding for universities and a review of salaries for lecturers, among other issues.
Justice Polycarp Hamman on Wednesday ordered the union's members back to work.
Meanwhile, the Committee of Vice-Chancellors of Nigerian Universities CVCNU has said the crisis between the Federal Government and ASUU is not an issue that should be taken to court.
While reacting to the court order asking ASUU to go back to class, the CVCNU chairman, Prof. Samuel Edoumiekumo, said a lecturing job is not done forcefully because it is a knowledge-based job.
On his part, the Ebonyi State University's ASUU Chairman, Ikechukwu Igwenyi, said with the court order, the Federal Government has declared "war" against members of the union stressing that the "no work, no pay" policy of the government shows the authorities lack an understanding of the nature of the contract between the lecturers and their employees.