Abia governor sets up panel to 'recover' govt property from Ikpeazu's appointees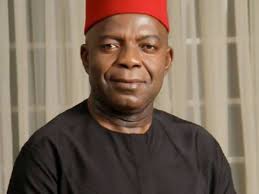 The Governor of Abia State Alex Otti has set up a judicial panel of inquiry tasked with recovering government properties from the state government officials who served under the administration of his predecessor, Okezie Ikpeazu.
Ikpeazu of the Peoples democractic party (PDP) served as a two-term governor of the state from 29 May 2015 to 29 May 2023, when he handed over to Otti.
The Secretary to the State government (SSG), Kenneth Kalu, announced the setting up the judicial panel of inquiry in a statement on Friday.
A judge of the State High Court Umuahia, Florence Duruoha-Igwe, was named the panel chairperson.
According to the statement, other panel members include Ekeoma Ogwo, a professor; Ugochukwu Okoroafor, Alex Okonkwo, a catholic priest] and Ngozi Akanwa, a professor.
Otti, earlier this month, had directed former state officials to return government's properties in their possession or face sanctions.
The SSG did not mention the names of the former officials, but it is believed that he was referring to government officials who served under Ikpeazu.
Otti, since he was sworn in as governor on 29 May, has been calling former appointees of government to return properties of government in their possession and even accused the former administration of leaving "huge debts" and zero assets for the new administration.
But the former governor has repeatedly denied the allegations.