Abia APC: Court dismisses Onuigbo's suit against Atuma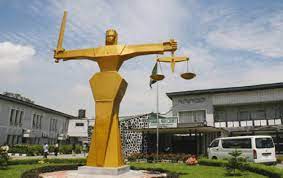 A Federal High Court in Umuahia, Abia, on Tuesday, dismissed a suit filed by Sam Onuigbo, as the winner of the All Progressive Congress (APC) Abia Central Senatorial primary election.
Onuigbo sued the APC, the Independent National Electoral Commission (INEC) and Emeka Atuma as 1st, 2nd and 3rd defendants respectively over alleged substitution of his name with another name.
In the suit filed on Onuigbo's behalf before Justice Evelyn Anyadike, by his counsel, Emeka Obegolu, SAN, Onuigbo prayed the court to restrain his party from substituting his name for the 2023 election as well as prayed the court to mandate the APC and INEC to immediately include his name as the candidate of the party after he emerged as the winner of primary election held between May 28 and May 29.
Delivering judgment, Justice Anyadike held that the election conducted on May 28 and May 29, was inconclusive adding that plaintiff tendered a result on the alleged election he purportedly won and signed by one Daniel Shuwan, who was only a member of the committee and that it was unlawful for a member of the committee to purportedly signed a document meant for the chairman and secretary.
She said that the report by INEC was that of an election that was conducted on May 28, whereas there was no result for May 29, wherein he claimed it was concluded.
The presiding judge said that the exhibit tendered by the defendant showed that Izuchukwu Okeke, who was the chairman of the electoral committee, his secretary and Shuwan all signed the June 7 result sheet adding that the plaintiff was unable to decide the burden of proof that he won the primary election.
However, the judged did not order INEC to upload the name of any candidate.
Reacting, Atuma, who was a former member of the House of Representatives, hailed the court judgment, saying that justice had prevailed at last.
Atuma, who described Onuigbo as his brother, being that both are from Ikwuano Local Government Area, urged him to joined hands with him in working for the good of the people.
Also reacting, Onuigbo said that he would study the judgment with his lawyer after which he would appeal.