Onuigbo advocates creation of sixth state for Southeast, lauds Tinubu for recent appointments of Ndigbo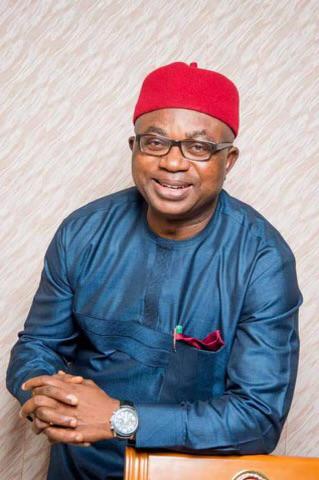 An All Progressives Congress APC Chieftain and former member representing Ikwuano/Umuahia North/Umuahia South Federal Constituency, Rep. Sam Onuigbo, has said that the imbalance and unfairness being witnessed by the South East is a symptom of a foundational issue relating to imbalance in the number of states within the six geopolitical zones of the country.
The former National Lawmaker made this known while appearing as a guest on a Television programme.
Reacting to the topic "The Standing of the South East Zone in Tinubu's Government", Rep Onuigbo posited that the perceived marginalization of the South East can be attributed to a wrong foundation of having just five states short of other geopolitical zones in the country, adding that this problem predates the present administration.
He noted that while the North-West has seven states and other regions of the federation have six states respectively, so the South East region with only five states would still be disadvantaged even if the ministerial positions were shared on a state basis.
Audio 1
VC ONUIGBO SOUTHEAST 1
Citing the works of Baron de Montesquieu and James Harrington on "Jurisprudence and Separation of Powers", he stated that while government is continuous, with people coming and going, there is a need to institute structures that do not allow for the unfair treatment of any group.
"Now that we have made it clear that this shortfall is not in the interest of the South-East, this time, I am hopeful that we are going to look forward towards achieving that which is in the interest of the South East zone."Over the years, even when I was in the House of Representatives, we have been making the appeal for an additional state to be created in the South East zone.
This is because the states and local governments are the things used for the distribution of positions. But when you have a shortfall from the beginning that is a major bad foundation that you cannot easily repair".
Rep Onuigbo also lauded President Tinubu, whom he said has shown goodwill by appointing the Chief of Naval Staff from the South East zone, which is a departure from the past eight years where the zone was not represented in the appointment of the nation's security chiefs.
Audio 2
VC ONUIGBO SOUTHEAST 2
"We have to commend him for the ones he has done, and urge him to do more. It is my appeal now to the President, who is a listening President, that as we go forward, that he will be able to look at these appeals made by South East leaders and ensure that the South East is fairly represented," he concluded.
Also, he thanked President Tinubu for appointing him as the South-East representative on the Governing Board of the North East Development Commission (NEDC).