Court adjourns Onuigbo's suit seeking INEC to upload his name as APC Senatorial candidate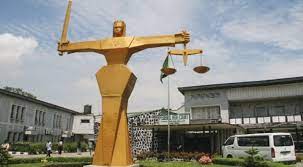 Hearing of the suit seeking recognition of the Member representing Ikwuano/Umuahia Federal Constituency Hon. Sam onuigbo as the Abia Central senatorial candidate of the All Progressives Congress APC has been stalled at the Umuahia Division of the Federal High Court.
The suit instituted by Onuigbo and slated for hearing for September 15, 2022, could not go on owing to a motion objecting to its hearing by the APC.
Onuigbo is praying the court for an order to compel INEC to upload his name in its portal as the legitimate winner of the Abia Central senatorial primary poll conducted on May 28 and May 29, 2022.
The plaintiff is asking the court to stop APC from parading Emeka Atuma, who only contested the party governorship primaries, but not senatorial stressing that the election, which was duly monitored by INEC officials, had seen him defeat his only contender Henry Ikoh with 157 votes to 152.
When the matter was called up on Thursday, Counsel to Onuigbo, Emeka Obegolu (SAN) told the court that he was just recently served with the Notice of Preliminary Objection by the first defendant adding that the preliminary objection contained allegations which he needed to consult his client and respond to.
Audio 1
Obegolu maintained that Atuma never contested the primary election of the APC adding that preliminary objection filed by the defendants was just a clear attempt to truncate the hearing.
Audio 2
The trial judge, Justice Evelyn Anyadike confirmed that the matter was originally slated for Oct. 5 but graciously granted it for September 15, for all the parties to be represented as she adjourned the matter for September 30, for definite hearing.