10th Senate: APC diaspora endorses Orji Kalu for Senate President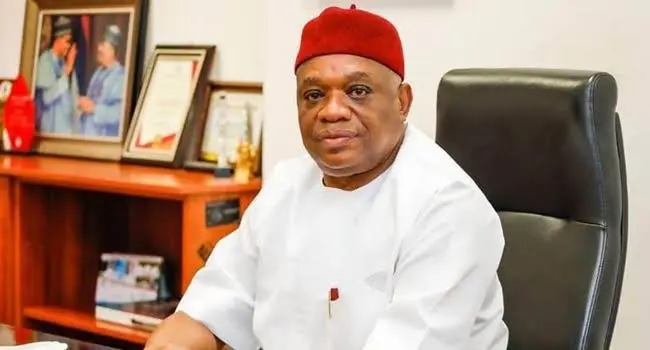 AHEAD of the inauguration of the 10th National Assembly, a group under the aegis of the Dispapora chapter of the ruling All Progressives Congress, APC, South Korea is rooting for the Senate Chief Whip, Senator Orji Uzor Kalu, APC, Abia as the next President of the Senate.
In a statement on Thursday by the Party's South Korea Chairman, Hon. Yuccee Uwah and Chief Charles Mokwe, the group noted that the Dispapora chapter of the party arrived at the decision to support the former Abia State Governor after its members undertook what it described as a thorough profile assessment of all Senators-elect that have so far indicated interests to contest for the post of Senate President for the next dispensation from June 2023.
The group said, "Arising from its general meeting held in Seoul, South Korea the party identified Kalu's parliamentary experience including his detribalised leadership qualities as major factors which they said are most needed to Govern the affairs of the Red Chambers.
"The former Governor's Loyalty to the progress of the party and his national spread in terms of business, political and educational alliances were also cited as reasons for their endorsement.
"The Party urged its Leadership and the President to elect Asiwaju Bola Ahmed Tinubu to rally behind Kalu.
"Members of our great party, APC Korea, we conducted a thorough appraisal of aspirants vying for the office of Senate President and lead the 10th National Assembly in the next dispensation.
"As APC faithful, using verifiable indicators including but not limited to leadership trait, political exposure, governance experience, competence, cosmopolitan, and democratic credentials. The Senate Whip, Senator Orji Uzor Kalu came tops across these indicators. He stood head and shoulders higher than the others."
"In our considered view, Senator Orji Uzor Kalu has demonstrable competency, capability and capacity to steer the ship of the 10th National Assembly towards a cordial Executive-Legislature relationship that will consolidate our democracy.
"The party also said that Kalu understands the needs and aspirations of all regions of the country saying that the Senate Chief Whip hails from the South-East, Educated in Northern Nigeria city of Maiduguri, Borno state and built his businesses in South West city of Lagos.
"To further actualise their goal, Yuccee disclosed that they have activated contact mobilisation of its members in other countries , members of the Party's National Working Committee (NWC) and other key stakeholders to support their cause.
"As Governor of Abia state from 1999 to 2007, he had aides from across Nigeria's ethnic groups. Currently as Senate Whip and Senator representing Abia North Senatorial District, Abia state, his aides cuts across all ethnic groups and religious divides.
"Senator Kalu is cosmopolitan in outlook; adept at managing Nigeria's creative diversity as well as strategic leadership traits that deliver results. He is the committed patriot that we need at this point of our nation's history. We urge Senators-elect across the party lines to support, vote and elect Senate President, the Party expressed."