Abia Assembly passes Persons with Disability Bill into Law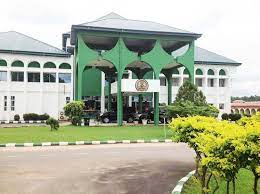 The Abia State House of Assembly has passed into law the H.A.B 23:" A Bill for a law to establish the Abia state welfare for the disabled persons and other matters incidental thereto.
The passage of the law followed the consideration of the Bill at the Committee of the whole which was chaired by the Speaker, Chinedum Orji and its 3rd reading.
The bill after due consideration by members of the state house of Assembly was passed into law with the Speaker announcing that upon being assented to by the Governor, it shall be deemed to have come into force on the 31st day of August, 2022.
Speaking with Dailytrail News, the Deputy Majority Leader and member representing Ukwa East State Constituency Hon. Paul Taribo who is the sponsor of the bill described it as a landmark bill that will go a long way to place the destiny of the persons with disabilities in their hands as a commission will be set up to cater for their welfare.
AUDIO 1
Taribo who expressed gratitude to the Speaker and other members of the House for ensuring that the bill is passed into law expressed confidence that the executive arm of government will give its assent as well as see to its full implementation.
AUDIO 2
Meanwhile, the Executive Director, Centre for Citizens with Disabilities (CCD), Mr David Anyaele says he received with joy the news of the passage of Abia State Disability Bill by Abia State House of assembly led by Rt. Hon. Chinedum Orji.
Mr Anyaele in a press release he signed, said the passage of the bill is a strong demonstration by the Abia State House of Assembly that all lives are precious, in particular the lives of Abians with disabilities.
According to him, persons with disabilities in Abia State are the most excluded in governance at the subnational level in Nigeria due to the absence of a legal framework for the protection of the rights and dignity.
He noted that with the passage of this bill, the end of exclusion of Abians with disabilities in governance by State and none State actors is coming to an end.
Mr David Anyaele therefore called on the Clerk, Abia State House of Assembly to speedily clean up the bill for onward transmission to the State Governor for his assent and also called on the Governor Okezie Ikpeazu not to hesitate to sign the bill into law as his wife has committed so much to get the bill passed.